When it comes to summer time, we all want to look our best. Personally, I feel like a person can be both comfortable and stylish at the same time, especially if they know how to shop. Let's face it, comfort is important when we're talking about the sweltering summer months! But how do you get the right outfit ideas for summer when you're not a fashionista? Not to worry because it's a lot easier than you think!
*We earn a commission for products purchased through affiliate links on our site.
Fashions Come and Fashions Go
Regardless of what's "in" this season and what's not, there are a few basics you can always count on to make you look good during the summer months. These include the following:
Whether you like it or not, it's swimsuit season, so choose the right one for your body type. Petite figures do better with high-cut bottoms that elongate the body. Women with athletic builds should consider ruffles or a horizontal pattern. Curvy figures need one-piece suits.
When buying your sandals, consider wedge sandals. They look great with everything and are cute as a button! They're also better for your feet than heels.
Add some tribal prints when shopping for sundresses, tank tops, or even your shorts. Wear them with simple neutral accessories for the best look.
Remember that for a more romantic look, you can try a silk peasant top or poncho blouse. They can be in any pattern, but these two loose-fitting blouse types will flatter anyone's figure.
The simple fashions never go out of style, and if you'd like some practical outfit ideas for summer, here are a few to consider:
1. Skechers Women's Slide Wedge Sandal
Available in both brown and black, these sandals will match practically any outfit you wear, and at just under $40, you can afford to buy them in both colors. Comfortable both because they're made by Skechers and because they slide onto your feet, these sandals have rubber soles and a 2.25-inch heel that is neither too high nor too low. 
They have a rubber sole and a cushioned foot bed for the ultimate comfortable shoe, and the best part is, they go great with both jeans and dresses. If you're looking for the perfect pair of summer sandals to add to your collection, this is it.
Slide Wedge Sandal
Skechers
2. Sleeveless Animal Print Sundress
If there's one item of clothing that needs to be in your closet for the summer, it's a sundress, and this dress with a bold animal print is certain to stand out wherever you go. It has a flowing skirt and a princess waistline, and you get a scoop neckline in both the back and the front. Plus, the midi length is perfect because it is neither too short nor too long for most women.
You can wear this dress with a shawl or a denim jacket, and it comes in six different sizes ranging from XS to XXL.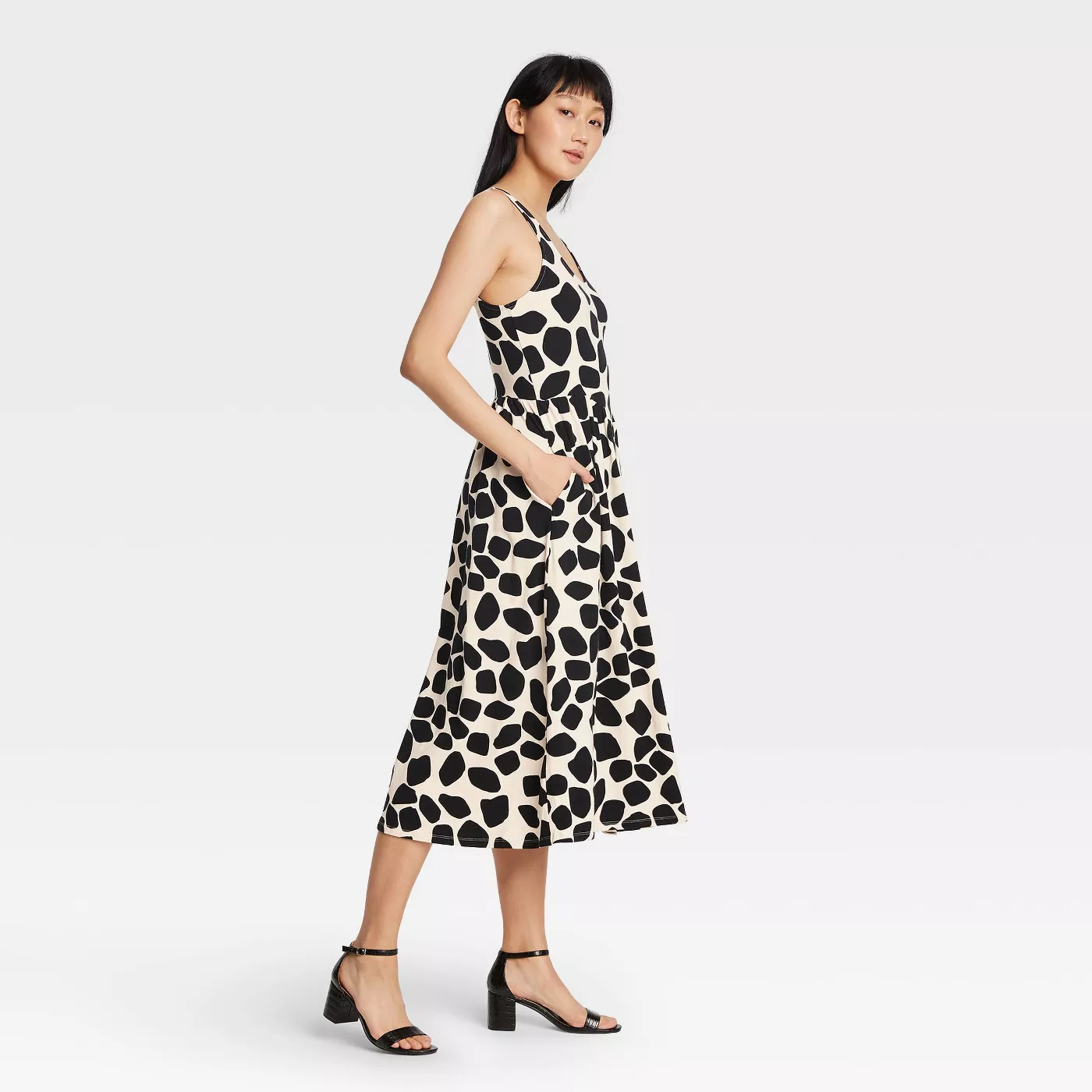 Sleeveless Animal Print Sundress
Target
3. Chloe Denim Pencil Skirt
The great thing about denim skirts is that they go with everything, and they can be dressy, casual, or anything in between! This particular skirt is in a straight design and is the perfect shade of blue, so it can go with your favorite tank top, blouse, or T-shirt. Add some accessories to fancy it up a bit, or keep it casual by wearing it with a pair of sandals.
The skirt is 20 inches in length, has a comfortable elastic waist, and is made with five pockets so it's super trendy. It's the perfect addition to anyone's summer wardrobe.
Chloe Denim Pencil Skirt
Nordstrom
4. Slenderizing One-Piece Swimsuit
While this is a very fashionable swimsuit, its unique lines make it into the perfect swimsuit for those of us who like to look a little slimmer as well as trendy! It has detachable and adjustable shoulder straps and a shelf bra with soft foam shaping cups. It is a stunning swimsuit indeed and comes in nearly a dozen different sizes, which means nearly all women can find one to fit.
It also comes in a black-and-white design, which allows for even more of a slimming look. Most women will benefit from wearing this eye-catching and very slimming swimsuit.
Slenderizing One-Piece Swimsuit
Venus
5. INC Pull-On Bermuda Shorts
These shorts are available in many colors from neutral colors to lively colors like red or pink. They have a drawstring waist, making them super comfortable for everyone. And the spotlight is they fit really nice with no zippers, pockets, or buttons. There are even more choices in sizes, from 0 (XS) to18 (XL). When you're looking for trendy outfit ideas for summer, you can't forget about a neutral-colored pair of shorts, and these shorts will match anything you wear with them every time.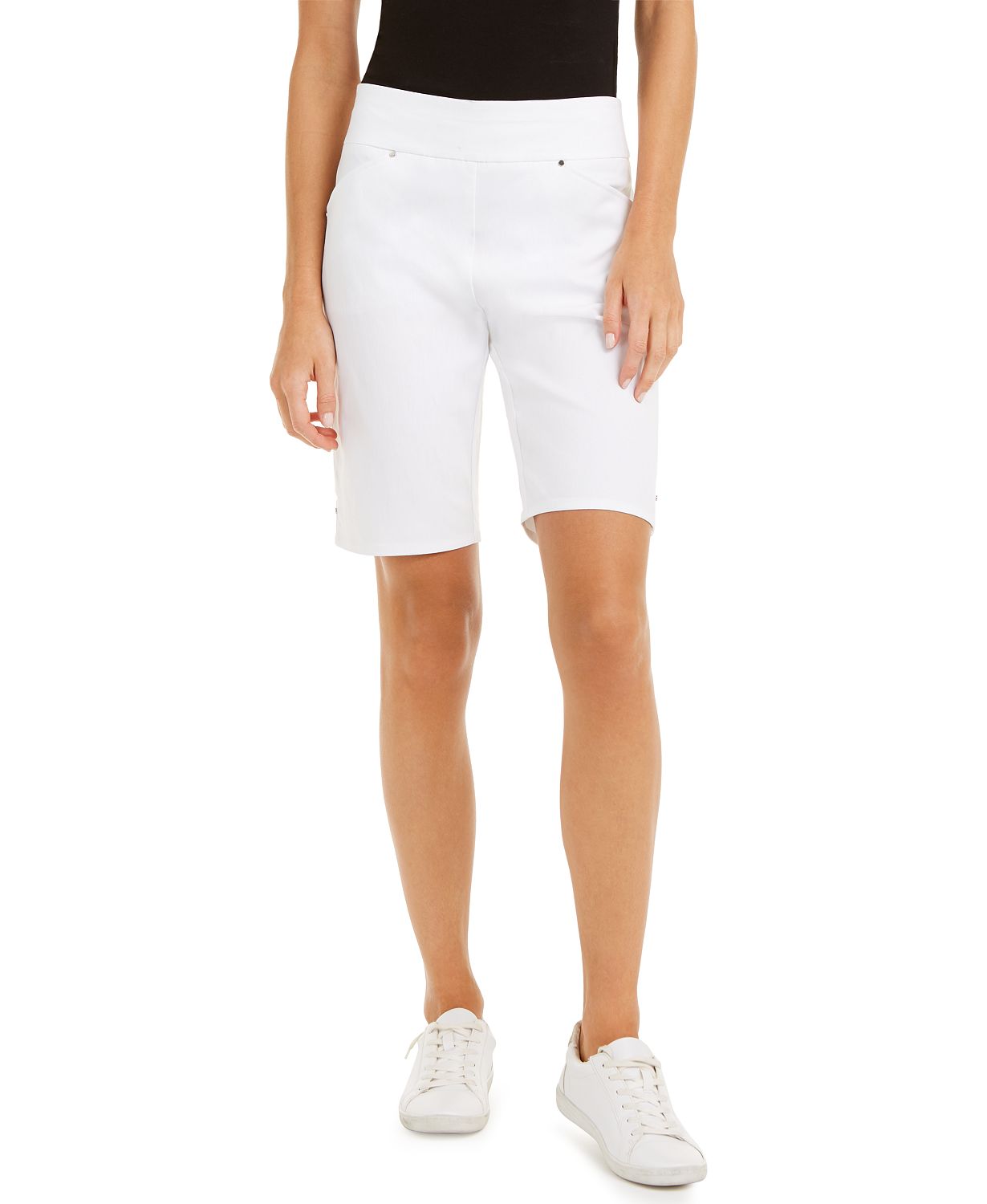 INC Pull-On Bermuda Shorts
INC International Concepts
Finding stylish summer outfits doesn't have to be difficult. It also doesn't have to be expensive because there are so many stores that offer lots of great clothing at great prices, and you can find them with just a little due diligence on your part.